WE ARE BACK !! with a limited service 
Many changes have been made to allow us to train safely.
The new course being released at this time is an exciting Alloy wheel and colour change course, jam packed with information, tips and tricks, including:
How to run a successful business, with options of working with both trade and private, how to get and secure work, advertising van set up design advice (perfect for starting a small business). all with our usual full after course support
I would like to take this opportunity to take you through the changes we have put in place for your and your trainers safety. We are taking Covid19 extremely seriously and we invite all perspective trainees to share this same mindset.
With our style of personal training, not in groups or large class rooms, our focus is to continue providing the excellent 1 to 1 training we have offered over the last eleven years. Therefore we have extensively planned safety precautions which also allow trainees to see and study all the close up methods, angles and techniques used.
Before Covid19 we would quite happily train in the mobile van for close up training in bad weather conditions. But now training in the van's confined space with two people is almost impossible.
(The van will still be on site to look at to see all options how to set up for a mobile business.)
Therefore, for safety, we have moved this part of the training into our unique container workshop, that will still importantly replicate the different daily temperatures and limited space you will need to understand and work with for your new business.
The workshop has been carefully separated with a sealed top-to-bottom glass partition. Please see our video clip
and latest information on our Facebook page.
Unlike any other training company we can now stand side by side within inches, safely enabling trainees to see all the close up detailed movements and angles with hand tools and materials required to copy and accelerate in the intense training quickly.
Once these skills have been practiced and mastered, with permitting weather, training will carry on outside with all social distancing measures in place.
Both trainer and trainee will be required to wear the correct PPE masks ppf2, pp3 or equivalent grade that is required for spraying. Additionally for our safety appropriate masks will be kept on while outside during the training programme.
All hand tools supplied and materials will be separated between trainer and trainee to avoid cross contamination, and will be thoroughly sanitized after every course. Hand wash and antibacterial soaps will be provided for regular use throughout the day.
For your complete piece of mind, any signs of illness in the trainer or trainee will immediately stop the course. The course will then be rescheduled or a refund will be given for the remaining time of the course.
Thank you for taking the time to read through this.
If you are interested in our new updated training course and are willing to abide by our set of safety outlined here, you are welcome to call 07715 334 664
Have a great Day and stay safe Regards, Martin.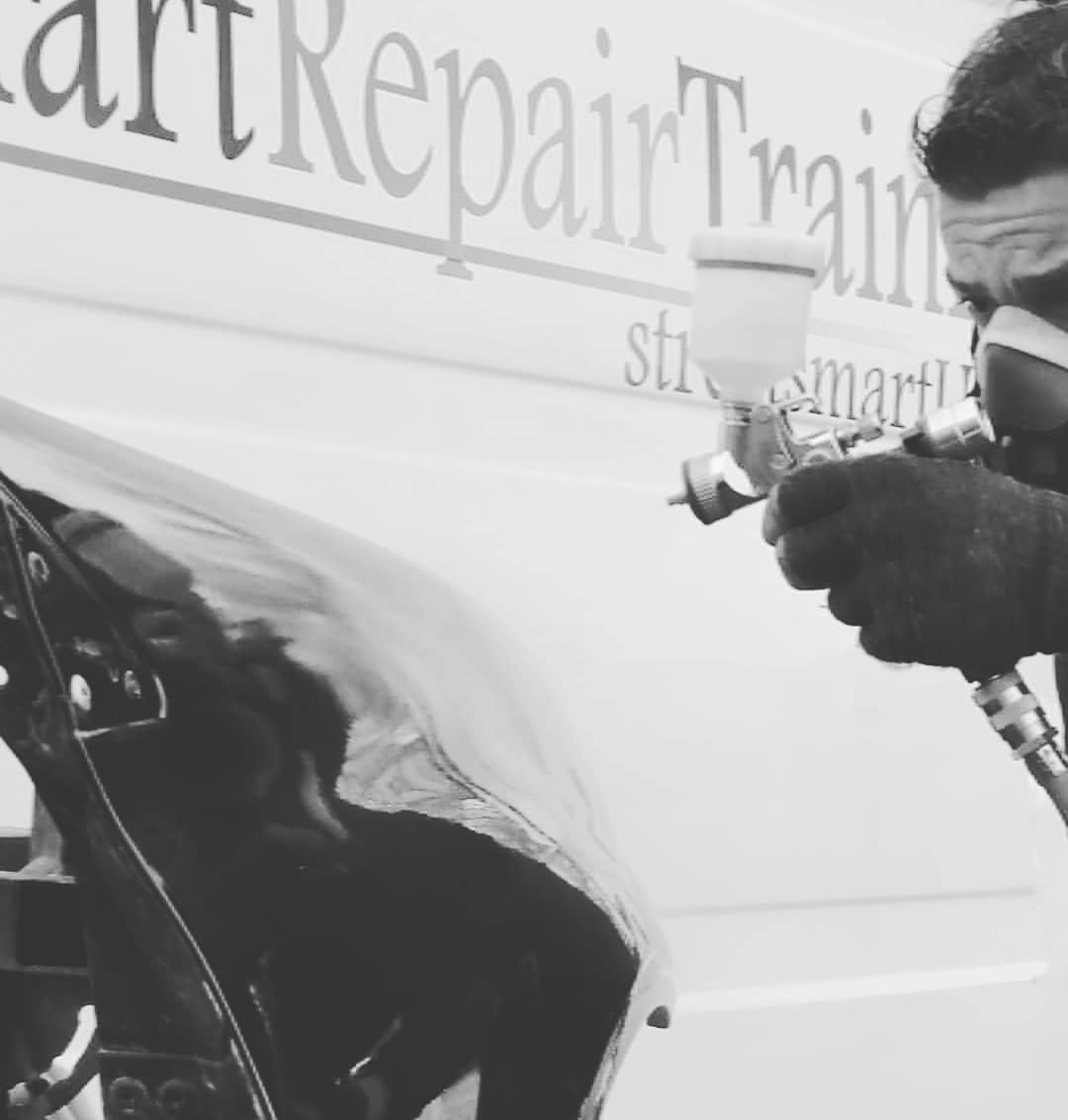 Picture: trainee Paul Moris from Guns and Hoses.
https://www.facebook.com/smartrepairtraining