You have a couple of options starting this business, my training is suitable for both mobile and static ventures.  The training includes full business training, tips and advice included in all courses, and advice on how to gain and secure work and operate a successful business.
Mobile
Offer the ultimate convenience of same day repairs at lower prices but also importantly at body shop quality, for the private and trade market.
I would definitely recommend starting with a mobile business, as no business rates or overheads makes the perfect, low risk, high return small business.
Specialising is the trick. I would advise you to either go into a alloy wheel repair mobile business or a combination of alloys and bumper plastics.
Option 1 : combination of trade and private:
For example: Split your working week up to 3 days trade, giving a regular high volume of repeat business.  You would be usually, depending on the size of the dealer be there all day offering high quality, fast turn-around repairs. This business, as you will find, is vital for the car dealers as the cars need to be left on site.
Then leave the rest of the week open for private market bookings with retail prices.
Or option 2:  Aim the business solely at the private market,
An example of this is trainee: Craig Scott from Optimize wheels in Essex. Craig started his business on l2th June 2016.
His business now is showing fantastic growth and strength, and has high quality repairs and gives a great service. He uses a combination of a website and social media to advertise his business with 5 star reviews. Now after returning for the advanced training programme he has achieved membership of my quality assured repairer network.
Check out his websites: http://www.optimizewheels.co.uk/      https://www.facebook.com/Optimizewheels/
Another good example is trainee: Billy Thacker from Croydon, who started his business in January 2017 and is already achieving good growth and high quality repairs with excellent 5 star reviews.
Find his websites at: https://autospraysmartrepairsspecialist.com/      https://www.facebook.com/autosprayuk/
Small Static Unit: Alloy Wheel refurbishment.
We are pleased to announce the completion of our container workshop creating a beautiful low cost solution, ideal for the Alloy wheel refurbishment business. Something a little different, portable, insulated and office complete with a VW reception desk!-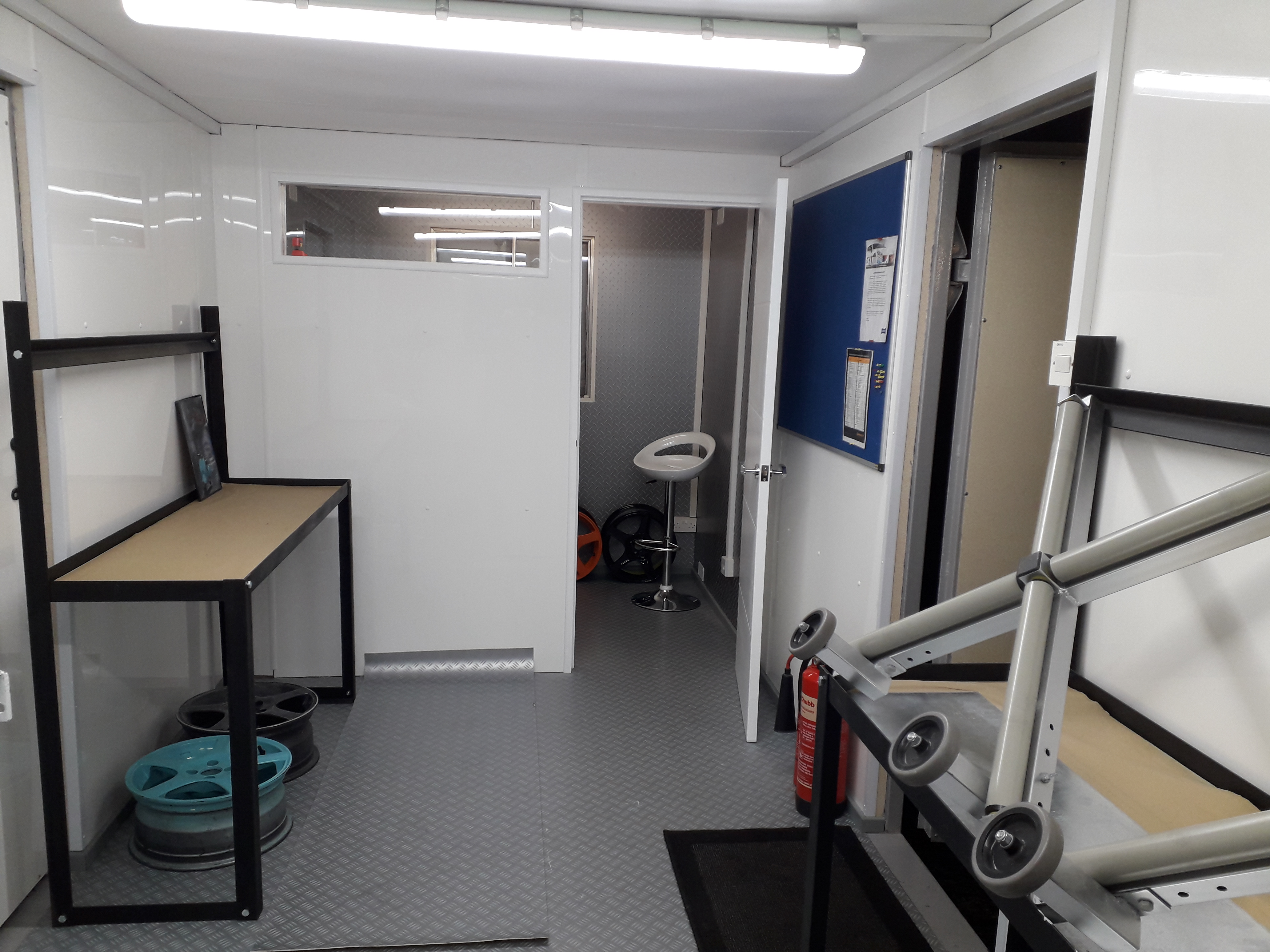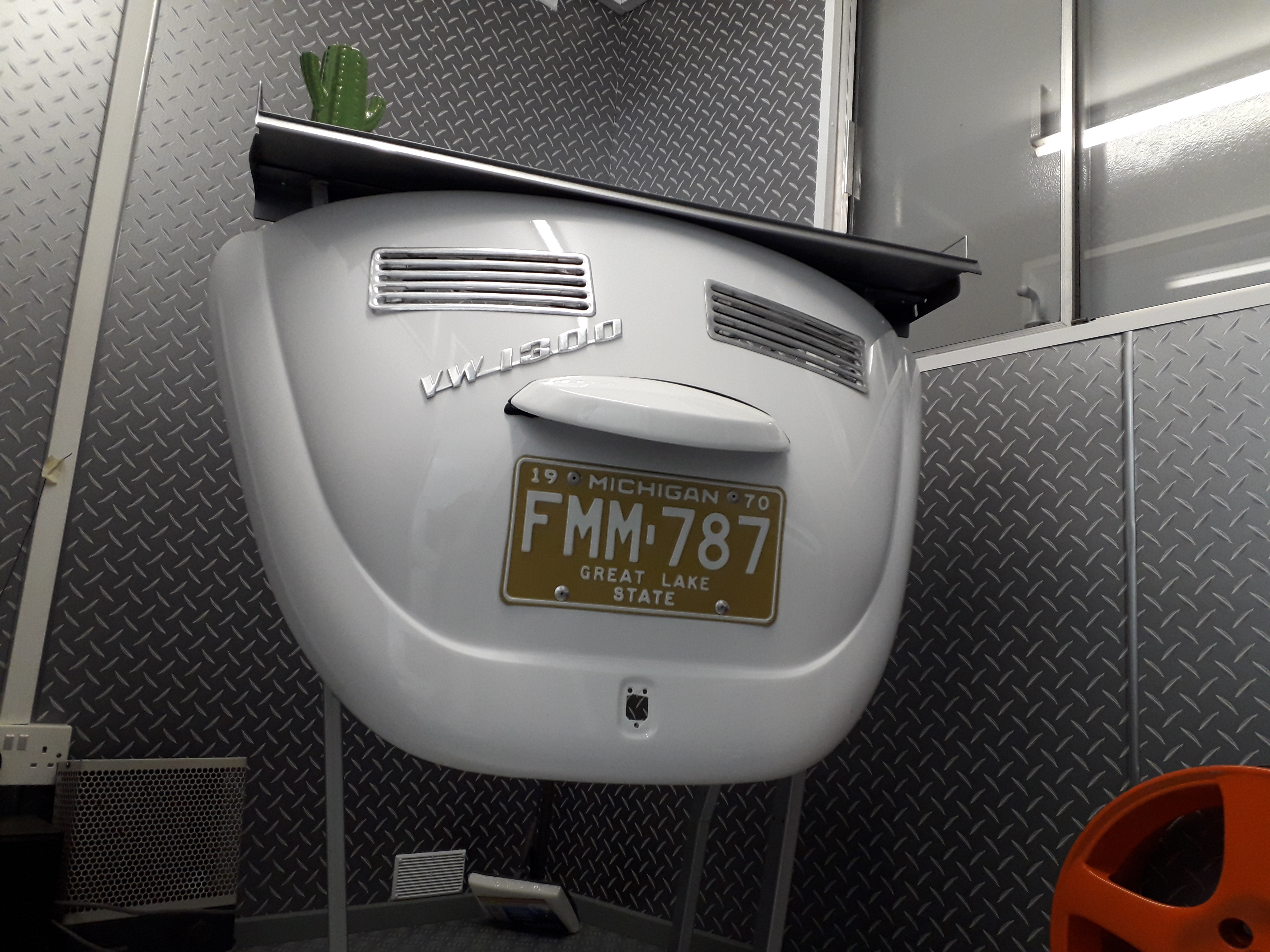 Small Static unit : Same day repairs, Body, bumpers and wheels
Think enough room for two maybe three cars, again keep the costs down, overheads low.  Clean, bright, small reception, high tech, Wi-Fi, leather settee, and a coffee machine for customers collecting end of day.  This is a fantastic business to add later once the mobile business is sorted.
The key here is, the location must have passing trade to make it viable.
An example of this is trainee: Davey Garrett, Tyne & Wear, from Wheel Right.  Check out his site, he has now achieved membership of my quality assured repairer network:
A note from Davey: "Within a few months of returning home my business was up and running and my experience and reputation for a quality service was fast growing and it has continued to grow, now 16mths later we have a fully operational mobile repair unit and a small static
Workshop together with a good customer base and more exciting plans for the future expansion and growth.
I am so pleased I selected Martin as the training I was given together with business advice on how to get started was second to none
More can be seen about my business on our website at: www.wheelright-awr.com and if you would like to know more about my experiences and training with Martin at street Smart uk feel free to email me with any questions at : wheelright-awr@mail.com "